Have you ever been to a TED talk? They're events where you listen to passionate speech after passionate speech for eight hours, and by the time it's over you are
so soaked
in drive and ambition and positivism to the point that it's surprising when you must carry on mundane activities such as actually having to use your two feet and walk instead of being able to fly through sheer will.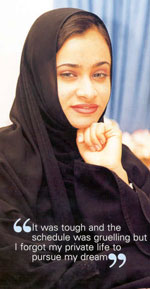 Captain Aysha
A week ago I attended one of those intense TED events and the opening inspirer for the day was Aysha al Hamli, an Emirati pilot. A woman pilot. The first from her country. She stood there in her traditional abaya and sheila and told us her story. How she decided to be a pilot when she was a kid, and how she simply pushed aside all the '
but
's and '
if
's and the '
what will be the people say?
''s when the time came to realise her dream.
Then she shared lessons learned from her world of flying:
That you don't just hop on a plane and expect to get anywhere: you've got to plan ahead.
That you always need to know in which direction you're headed.
To know better than to expect appreciation from the safely-seated passengers at the back for going through turbulent times alone in the cockpit
To recognize that a journey never goes back to Point Zero
And to always remember to make a Plan B, but not be disappointed when God puts a Plan Z in your way- it may be your best plan yet.